About Us
Matrix Metal Products was established in 1984. The 22,000 square foot facility is located in Attleboro, Massachusetts, which is 20 minutes North of Providence, Rhode Island and 45 minutes South of Boston, Massachusetts.
The company specializes in a wide variety of safety discs for various applications including but not limited to pressurized gas cylinders. Matrix also produces precision metal stampings and is capable of holding close material tolerances. Additional capabilities include ink marking of materials, tool making and CNC machining.
Over the years Matrix Metal Products has grown a customer base throughout the United States and 10 Countries. One of the company's objectives is to meet our customer's product specifications in an economical manner. Matrix's products provide outstanding value backed by the continual improvement of an ISO 9001:2015 quality system.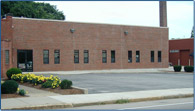 Proud member of the Compressed Gas Association since 1985